As 2011 comes to an end I'd like to take this opportunity to reflect on this year's explosive violence related events. Sadly, in over 70 countries, explosive weapons have caused severe harm to individuals and communities and furthered suffering by damaging vital infrastructure. But recognition is growing that the use of explosive weapons in places where civilians live, work or gather constitutes a serious humanitarian problem that needs to be addressed. An increasing number of humanitarian actors and states are working to reduce this suffering and improve civilian protection.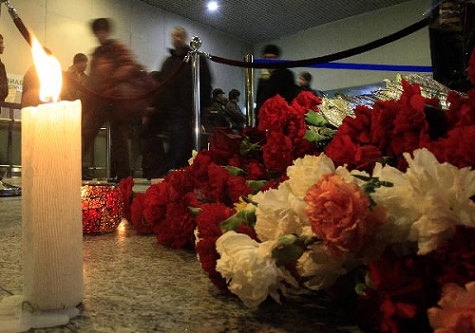 Action on Armed Violence's (AOAV) Explosive Violence Monitoring project recorded almost 33'000 civilian casualties from explosive weapons use in populated areas from October 2010 to the end of November 2011. Some incidents were widely condemned as inhumane and unacceptable, such as the bombing in the crowded arrival area of Moscow's Domodedovo airport in January 2011 that killed over 60 people and injured over 160, or the powerful bomb blast in the government district of Norway's capital, Oslo, in July, in connection with the Utøya massacre.
Other events involving explosive force attracted sustained international media attention. In February, a border dispute between Thailand and Cambodia involved artillery shelling and the use of cluster munitions.
In March violence escalated in Ivory Coast with Gbagbo forces firing mortar shells into an Abidjan market, killing at least 20 people and wounding around 60. In April and throughout the following months fighting intensified in Libya. Shelling and airstrikes caused civilian casualties and great destruction in Misrata, Sirte and other Libyan cities.
Whereas violence in Côte d'Ivoire and in Libya prompted armed intervention to protect civilians against "heavy weapons" – by way of explosive weapons use that also caused civilian harm – no such action was taken in other contexts.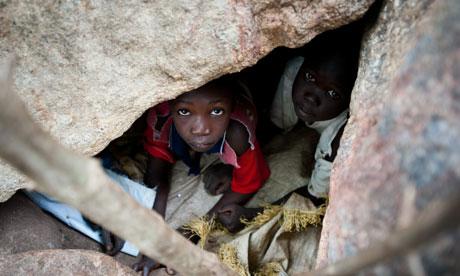 In June, airstrikes by Sudanese government forces displaced tens of thousands (!) of civilians in Southern Kordofan. The North Sudanese air-force also carried out devastating bombing raids in the Blue Nile state and in South Darfur on several occasions throughout this year.
In Yemen, shelling in Taiz and other cities was reported since March. Condemning this violence, the UN Human Rights Chief stated in December that "lethal force and heavy weapons must not be used against peaceful protesters". Shelling in Syrian cities has been reported since April. But despite evidence of explosive weapons use no international body investigating the situation has explicitly noted that the use of such weapons in populated areas is a key challenge for the protection of civilians and is incompatible with the principles and objectives of law enforcement.
Explosive violence in populated areas has also taken a heavy toll on civilians in many other contexts without attracting an equally sustained level of attention among media and international decision makers. In spring, Bakara Market in Mogadishu, Somalia, was heavily shelled on several occasions. In Pakistan's Kuram and Orakzai Agencies, airstrikes and shelling by Pakistani security forces continued to kill, injure and displace civilians and to destroy their homes. In June, Pakistani cross-border rocket and mortar shelling killed dozens of Afghan families and left hundreds homeless. US drone strikes and other explosive weapons use have also been a source of civilian harm in this and other parts of the world.
Since June, Burmese armed forces have been shelling the Kachin region, causing civilians to flee to neighboring China. Judging from a recent report by the Karen Human Rights Group, the situation in Eastern Burma is still dire. Since mid-July, cross-border shelling by Iran and Turkey into Iraqi Kurdistan killed more than a dozen civilians and displaced thousands. Only yesterday, Turkish air raids reportedly killed over 30 Kurdish villagers in South-East Turkey. Finally, exchanges of artillery and rocket fire and airstrikes continue to inflict suffering on civilians in the Gaza strip and Israel.
Finally, throughout the year, civilians have born the brunt of countless bombings with improvised explosive devices (IEDs) in a high number of countries, including in Afghanistan, Colombia, India, Iraq, Pakistan, Thailand, and the Philippines. In May alone, AOAV recorded over 70 incidents in Iraq where car bombs, roadside bombs or other IEDs have harmed civilians. Civilians were also victims of a number of grenade attacks in Burundi, Rwanda, Somalia, and elsewhere. A grenade attack at a casino in Monterrey, Mexico, in August killed at least 53 people. And, landmines and unexploded ordnance remain a source of harm to civilians.
However, to end the year on some good news: in October the Basque separatist organization ETA declared it will abandon its armed struggle, putting an end to four decades of bombings and gun attacks. AMISOM is in the process of implementing an "indirect fire policy" which may have helped to reduce civilian harm from mortar shelling in Mogadishu in recent months. And, in October, the International Ammunition Technical Guidelines (IATG) were published. These standards, developed within the UN, may help to improve protection of civilian populations from unplanned explosive events in ammunition stockpiles.
Progress was also made in the fight against landmines and cluster munitions: More contaminated land has been cleared off landmines than ever before.
Finland made progress towards meeting its stated goal of acceding to the Mine Ban Treaty in 2012, and Burundi and Nigeria are the latest countries to have declared themselves mine free. Eighteen states joined the Cluster Munitions Convention this year, and progress towards universalization of the treaty is likely to speed up, given the failure of the Convention on Certain Conventional Weapons (CCW) to adopt an alternative norm on cluster munitions in November. The CCW did, however, decide to convene a group of governmental experts on mines other than anti-personnel mines in 2012.
2011 also saw positive signs of increasing awareness and recognition among states that explosive violence in populated areas constitutes a serious humanitarian problem. During the Libya campaign, avoiding civilian casualties from airstrikes was declared the "overriding objective" of the war, and a number of states and international organizations have on different occasions acknowledged the harm caused by explosive weapons in populated areas. During the latest UN Security Council debate on the protection of civilians, Norway said it would welcome discussions with partners on this issue. >The International Network on Explosive Weapons (INEW) has compiled a list of relevant official  statements.
Civil society organizations, in particular INEW members, have been instrumental in furthering awareness, coordinating research and advocacy efforts and fostering a community of practice concerned with addressing the humanitarian problems caused by explosive violence. Quite recently, Human Rights Watch and Harvard Law School's International Human Rights Clinic have published a backgrounder on the use of explosive weapons in populated areas.  >Find more 2011 publications on explosive weapons on this website.
Two reports by the International Committee of the Red Cross (ICRC) should also be mentioned. One highlights explosive violence as a challenge to the delivery of health care. The other, prepared for this year's Red Cross Conference, elaborates on concerns voiced previously by ICRC representatives in relation to explosive violence near concentrations of civilians and concludes that "explosive weapons with a wide impact area should be avoided in densely populated areas."
Daily reports of civilian suffering from the use of explosive weapons in populated areas combined with a paucity of detailed data on its causes and consequences, and the failure of users to make amends to victims underline the importance of carrying forward work aimed at reducing and preventing harm from explosive violence in 2012 and beyond. Developments since the issue of explosive violence broke onto the international policy making agenda indicate that progress is possible towards greater transparency and accountability regarding the use and impact of explosive weapons and ensuring the rights of victims.